50 Cent Video: Rapper throws mic at crowd in Los Angeles concert; leaves female host with stitches
After 50 Cent angrily threw his mic, it hit Bryhana Monegain, who is a host at radio station Power 106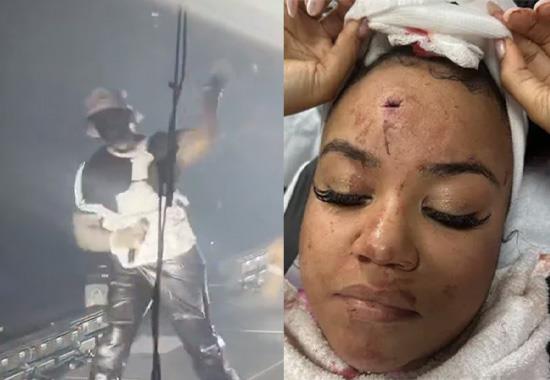 -

In a shocking development, well-known rapper 50 Cent lost his calm at his Los Angeles concert and angrily threw his 'malfunctioning' microphone twice in the crowd. After 50 Cent angrily threw his mic, it hit Bryhana Monegain, who is a host at radio station Power 106. As a result, 50 Cent has been embroiled in controversy and may face serious legal cases if the injured host presses charges against him. The incident took place on August 30 during the rapper's "Final Lap" tour stop at Cryto.com Arena in Los Angeles. Now, 50 Cent's video has been spreading like a wildfire and his fans are also fuming over his angry gesture. In fact, many are demanding legal charges against the rapper over 50 Cent's Los Angeles viral video.

In the viral 50 Cent Los Angeles concert video, the rapper was seen frustrated over the malfunctioning microphones in which he was singing. As a result, In da Club fame rapper hurled his microphone into the crowd not once but twice. The rapper was reportedly upset because the microphones were not working and threw the first one with little force but once the second microphone failed, he launched it into the audience with greater force Reportedly 50 Cent's second throw led to the injury of the host. Notably, during the "Final Lap" tour special guest YG was performing on stage at the time that 50 Cent hit the audience member.

Watch Video
OUCH!—50 Cent is in hot water after launching a malfunctioning microphone at the production crew during his performance at Crypto Arena.

The microphone struck Power 106 radio host, Bryhana Monegain and left a nasty gash on her forehead.

She has since filed a police report for… pic.twitter.com/Vp7XkY3tPW

— Amiri King (@AmiriKing) September 1, 2023
What did 50 Cent's legal team say?
As per US media reports, Scott Leemon, an attorney for 50 Cent was quoted saying, "Let's be very clear, as I told LAPD this afternoon, my client Curtis would never intentionally strike anyone with a microphone. Anyone saying something different doesn't have all the facts and is misinformed."
As per a separate report, the injured host, Bryhana Monegain filed a police report Wednesday night, and therefore rapper 50 Cent is now a suspect in a criminal felony battery. However, LAPD did not confirm that there 50 Cent has been booked under criminal felony battery charges.
For those who don't know, Rapper 50 Cent,'s real name is Curtis James Jackson III. He rose to fame in the early 2000s with his debut album, "Get Rich or Die Tryin'," which was released in 2003. The album's success, featuring hit singles like "In da Club," propelled him to mainstream fame and established him as one of the most prominent figures in the hip-hop industry at that time.
It is pertinent to mention here that a few months back, singer Cardi B was embroiled in a similar controversy when she threw her microphone at a fan in the crowd during a concert who allegedly threw her drinks on her while she was performing. The person on whom Cardi B threw her microphone filed a police report the next day, however, the singer was cleared of a possible battery charge in the days that followed.
Also Read: Why Paris Jackson did not celebrate her late father Michael Jackson's birthday? King of Pop's daughter answers
How did fans react to the 50 Cent mic throw video?
A user wrote, "She probably won't get that battery, because it was not intentional. She will win the civil suit though."
Another user wrote, "She'll be a millionaire shortly."
One more user wrote, "I feel that but it's also lawfare. I remember when accidents could occur. And yeah I get it, he didn't accidentally throw it, but it doesn't appear he meant to hit her. Screams of court appearances every time an ex-husband gets a raise."
"It's simultaneously the most unfortunate and the best thing to ever happen to her, honestly," wrote another user.