Actor Aanjjan Srivastav Reminisces Amitabh Bachchan's Pre-KBC Bankruptcy; With folded hands he said," I'll Return your Money ASAP"
In an interview Aanjjan stated that Amitabh Bachchan had gone bankrupt but overcame it with KBC. However, he became distant with all his old pals after KBC.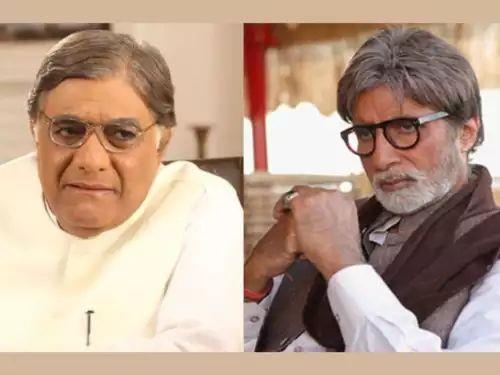 -

Aanjjan Srivastav of Wagle Ki Duniya and Amitabh Bachchan had a close friendship in the 1990s. Their professional and personal relationship began in Shahenshah, when Aanjjan introduced Amitabh Bachchan to his banker side and convinced him to open a bank account at the bank where he worked. Aanjjan was there for Big B during his darkest hour, but things soured following Kaun Banega Crorepati.

In an interview Aanjjan stated that "Amitabh Bachchan became entangled due to incorrect bank statements. Amit Ji was trapped in the ABCL account when it was present. We used to go to his office from the bank to take statements, and people were always bluffing him. This is what my manager and I realized when I asked the managers not to pursue a lawsuit against him because he was innocent and had been dragged into the situation. When we approached him, he stood up with his hands folded. 'I will return your money as soon as possible,' he promised. 'We haven't come for that,' I assured him. We've arrived to correct your accountant's error. You return the money when you can, and we believe you will and that your intentions are good. However, do not do transactions with other banks in this type of banking.' I returned to the bank and told them not to pursue any lawsuits. He gradually repaid all of the money."

He also said, "Amitji was in horrible shape; there was a massive uprising against him. I went to Filmistan to check on him on the set of Toofan. During those days, there was a massive protest against Amit Ji in Kolkata. Posters were being ripped, and Amit ji was also very distressed. I walked there and inquired, 'Bhaisahab kaise hai?' (How are you doing, Brother?) and he just stated, "Theek hun" (I am OK). There was nobody to see how he was doing. We are aware that Allahabad's writers began to criticize him. Without his knowledge, his father's friends had started criticizing him. He was in a dire, terrible state. After that, he had an accident, and I frequently helped him. Amitji was a good man in my eyes."

Sushant Singh's Sister Shares Touching Throwback Post, Leaves Everyone Emotional as She Reminisces Seeing Him Smile in the Picture

He also stated that Amitabh Bachchan had gone bankrupt, and his firm ABCL had significant losses that he couldn't bear. However, he returned with Kaun Banega Crorepati. The most astonishing thing was that he had shut himself off from all of his old pals. He was a different individual after joining KBC. After KBC, Amit ji and his relationship deteriorated. Before, Jaya ji used to call and invite him and his family to celebrate Holi, but over time, the calls and communication with him completely stopped. His career was unaffected, but it did hurt him. Even a few theater friends who incited Amitji against him were somehow to blame.