Cardi B mic throw case: WAP rapper in legal trouble as Las Vegas Police open Battery probe after fan's complaint
Cardi B mic throw video went viral across the world and the WAP rapper became the talk of the town a few days back.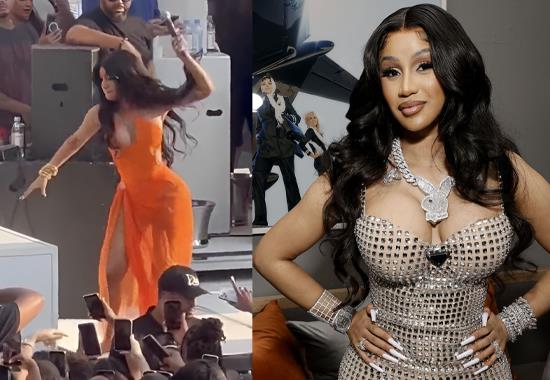 -

Internet seemed divided after WAP rapper Cardi B gave it back to a rude fan who threw his drink on her while she was performing in a live concert. Recently, Cardi B mic throw video went viral across the world and the WAP rapper became the talk of the town a few days back. Cardi B lost her calm and threw a microphone at an audience member during her appearance at Drai's Nightclub in Las Vegas on July 29. Cardi B lost her calm when the fan threw his drink at her. While many supported Cardi B, a section of the media slammed the WAP rapper for taking it too far. Now, Cardi B seems to be embroiled in legal trouble as the Las Vegas Police have launched a battery investigation against the Hollywood singer. As per US media reports, the Las Vegas Metro Police Department confirmed a battery had been reported by a woman just one day after the altercation occurred. No arrests or citations have been issued as of now.

As per the woman who was hit by the mic thrown by Cardi B, she was hurt by it. Her Police complaint says, "On July 30, 2023, an individual came into an LVMPD police station to report a battery..According to the victim, she was attending an event on July 29, 2023, at a property located in the 3500 block of Las Vegas Boulevard. During a concert, she was struck by an item that was thrown from the stage." For the unversed, the woman who threw the drink at Cardi can be heard apologizing immediately after the launch. However, multiple videos show the person being escorted out by security; after pointing some strong words at the offender. Cardi apparently left the stage after angrily throwing her mic.

Watch Video
Cardi B has a drink thrown at her onstage. She throws her🎤

2 things:

1. Cardi B encourages degeneracy, criminality & trash behavior. Don't be shocked when your "fans" behave the way you tell them to

2. The song didn't stop. Y'all listening to an iPad

https://t.co/NWjhf76ZK5

— Benny Johnson (@bennyjohnson) July 30, 2023
'These girls are not listening': Miranda Lambert fumes at fans for taking selfies mid-concert; Video Viral
It is pertinent to mention here that attacks on Hollywood pop stars have been amped by during live concerts by fans. Singer Bebe Rexha was almost knocked out by a fan throwing a cell phone at her head in New York, Harry Styles was hit with an unidentified object in Vienna, and Latto responded to a similar projectile in Germany by saying "Want your ass beat?". Talking about Bebe Rexha, the attacker informed the Manhattan District Attorney that he wanted to see if his mobile phone can hit the singer and if it do it would be funny. The 27-year-old was charged with two counts of assault in the third degree, also one count of harassment in the second degree, one count of aggravated harassment in the second degree and a count of attempted assault in the third degree.