Jawan Trailer: Did Shah Rukh Khan take a dig at Officer Sameer Wankhede in his upcoming movie? Fans outline
A week before its theatrical release, Jawan's Trailer was released and fans were quick to notice a dialogue of Shah Rukh Khan and claimed that it was aimed at none other than NCB's former Mumbai zonal director Sameer Wankhede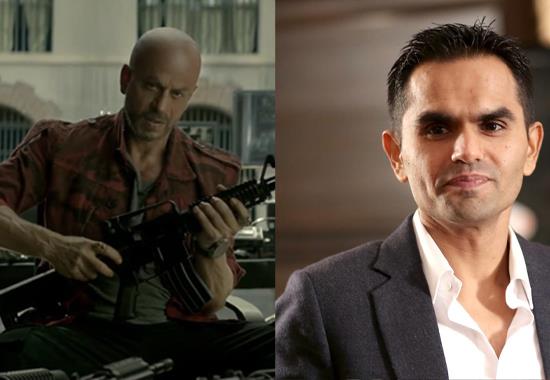 -

Termed as 'trailer of the century', Shah Rukh Khan's much-awaited movie Jawan's trailer was released on Thursday, August 31, 2023. For the past few days, makers were dropping hints that Jawan's trailer can be released anytime soon. Finally, a week before its theatrical release, Jawan's Trailer was released and fans were quick to notice a dialogue of Shah Rukh Khan and claimed that it was aimed at none other than NCB's former Mumbai zonal director Sameer Wankhede who arrested his son Aryan Khan on alleged drug charges. In Jawan's trailer, SRK was seen saying, 'Bete ko hanth lagane see pehle baap se toh baat kar leta (you should have talked to the father before touching his son)." Interestingly, fans are alleging that this particular dialogue of SRK is aimed at Sameer Wankhede who is now facing bribery charges himself.

For the unversed, Sameer Wankhede is accused of demanding Rs 25 crore bribe from actor Shah Rukh Khan for not framing his son Aryan Khan following alleged seizure of drugs from a cruise ship in October 2021. A team of CBI is investigating the matter. Sameer Wankhede and others accused in the case have been booked on charges of criminal conspiracy and extortion threats under the Indian Penal Code and provisions of the Prevention of Corruption Act pertaining to bribery. SRK's elder son Aryan Khan and several others were arrested in October 2021 for alleged possession, consumption and trafficking of drugs. Later, Aryan Khan was granted bail by the high court after spending three weeks in jail.

Notably, after Wankhede was booked on the aforementioned charges, he filed a series of WhatsApp chats claiming that Shah Rukh Khan personally messaged him asking him to forgive his son Aryan.

Jawan's Trailer

The movie is directed by Atlee and is produced by Gauri Khan who is the wife of 'King' Khan. Going by the trailer, Shah Rukh Khan seems to be portraying multiple characters and one of them is a soldier who goes rogue in order to seek revenge and ultimately justice for his father. Nayanthara can be seen playing the character of a cop assigned to nab 'bald' Shah Rukh Khan. Shah Rukh Khan is facing off against South Superstar Vijay Sethupati. The trailer suggests Vijay plays the character of an arms dealer. SRK is on a mission to take down Vijay at any cost.

What fans said on SRK-Sameer Wankhede saga?
He is SRK, Indian actor.

He is also known as king.

Today trailer of his movie #Jawan is released.

In trailer itself, he has given a strict message to all the fascists.

His one dialogue goes "Bete ko hath lagane se pehle, baap se baat kar"

It was a message to RW who made his… pic.twitter.com/M4xQ7KSHr3

— Dr Nimo Yadav (@niiravmodi) August 31, 2023
Also Read: Shah Rukh Khan's WhatsApp chats leaked; SRK 'begs' Sameer Wankhede 'don't send Aryan to jail'
Message from SRK to Sameer Wankhede and BJP IT Cell.#JawanTrailer pic.twitter.com/SG4Tux3MXT

— Nimo Tai (@Cryptic_Miind) August 31, 2023
Bete ko haath lagane se pahle, baap se baat kar'

SRK has given a clear message to Sameer Wankhede & his handlers in Delhi through #JawanTrailerpic.twitter.com/EFf6wQYKbh

— 𝙍𝙐𝙋𝙀𝙎𝙃🚬 (@SRKianRupesh05) August 31, 2023
Direct attack to Fraud Sameer Wankhede 💥😂😭#JawanTrailerpic.twitter.com/VtIdJwIAdw

— Nitish 🇮🇳 (@IamNitish98) August 31, 2023