Sunny Deol Seeks Blessings at Golden Temple Ahead of Gadar 2 release
Sunny Deol was seen visiting the Golden Temple in Amritsar on Saturday to seek blessings before the release of his upcoming film Gadar 2. The film is all set to hit theatres on August 11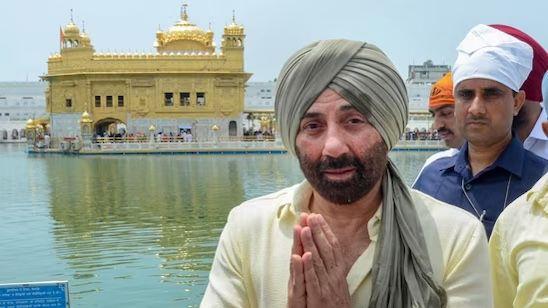 -

Bollywood actor and Gurdaspur MP, Sunny Deol arrived at Amritsar today, August 5 to promote his upcoming film Gadar-2. Sunny went to the hotel after flying at Amritsar airport early in the morning and dressed up as Tara Singh from his film Gadar. Sunny then went to the Golden Temple to seek the blessings of the gurus. His team was also present there.

He was seen worshipping in the temple premises, dressed in a yellow kurta pajamas and an olive green turban. Sunny made the rounds of the Golden Temple and offered prayers at the Gurughar. Sunny met his fans while wearing a turban and a kurta pajamas, but his security team encircled him and forbade anyone from approaching him too closely. Sunny claimed that he came to this location to ask for the gurus' blessings and to pray for the upcoming movie.
Sunny claimed that he always looks forward to visiting Gurughar. He stated that he feels linked to the gurus when he comes here. He also expressed concern for the current state of affairs in the nation and expressed the wish that everyone would live in harmony here. Since Gadar Ek Prem Katha Part-1 was released, Sunny has been prohibited in Pakistan. He will also arrive at the Attari border today for the retreat ceremony in this scenario. Additionally, he will spend time with BSF soldiers during this time. In addition, he will speak with travelers who are approaching the border.
Actor Aanjjan Srivastav Reminisces Amitabh Bachchan's Pre-KBC Bankruptcy; With folded hands he said," I'll Return your Money ASAP"
On Wednesday, Sunny also went to the Tanot Mata temple in Jaisalmer, Rajasthan. He was accompanied by BSF officials in charge of the shrine, which is located 120 kilometers from Jaisalmer. It is the same temple that was subjected to heavy gunfire from Pakistan during the 1965 and 1971 conflicts. The actor had arrived by a helicopter.
The actor is promoting Gadar 2 alongside co-star Ameesha Patel, who was not spotted with Sunny on Saturday. Utkarsh Sharma returns as an adult after playing Tara Singh and Sakeena's kid as a child actor in the first installment, Gadar: Ek Prem Katha. On June 9, the 2001 picture was re-released in theaters. The film is all set to release on August 11, 2023.