What happened to Florence Welch? British-American singer undergoes life-saving emergency surgery
Florence Welch who is the lead singer of the Indie band- The Florence and the Machine singer, informed her fans about her life-saving operation and why the band would not be performing a number of their scheduled European dates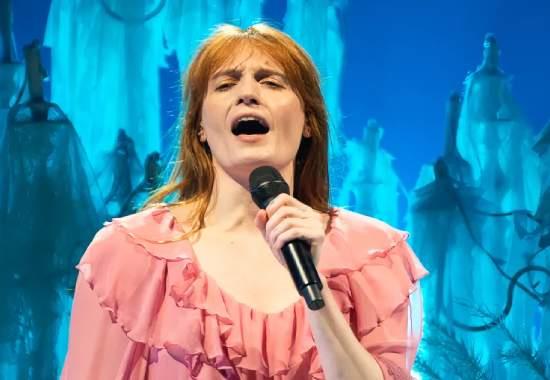 -

In what came as a shock for Britishers as well as Americans, British-American vocalist Florence Welch revealed that she was rushed to hospital for emergency surgery and had to cancel her multiple shows. Florence Welch who is the lead singer of the Indie band- The Florence and the Machine singer, informed her fans about her life-saving operation and why the band would not be performing a number of their scheduled European dates. Florence Welch who is quite popular among Americans and even the Brits, took to her Instagram and informed her 2 million followers that she had undergone emergency surgery and this is the reason why she is currently alive. Now, the question arises what happened to Florence Welch or what is Florence Welch suffering from? Below is what we know far-

What did Florence Welch reveal?

Florence Welch in her Instagram post revealed, "I'm so sorry that I had to cancel the last couple of shows. My feet are fine, I had to have emergency surgery for reasons I don't really feel strong enough to go into yet, but it saved my life. And I will be back to close out the Dance Fever tour in Lisbon and Malaga (maybe not jumping so much but you can do that for me). Suffice to say I wish the songs were less accurate in their predictions. But creativity is a way of coping, mythology is way of making sense. And the dark fairytale of Dave Fever, with all its strange prophecies, will provide me with much needed strength and catharsis right now."

Reacting to this, one fan commented on her post, "you dont have to share with us what happened, okay? like, ever. it's your life and it's your pain, and u don't own us an explanation or a sharing of something that it's only yours to feel! just have in mind that your health is the most important thing here, not just physical but mental too. i love you SO SO SO much and u can't never imagine how relieved i feel that i'm hearing from you. lots and lots and lots of love. (SIC)"

Another user wrote, "We're just relieved that you're ok — health first, always. Ready to send off the era in style as we dance ourselves to death!"

Also Read: Polo G Arrest Reason: What LAPD found inside the rapper's California home during a raid?

One more user wrote, "I'm so happy you are okay Florence your health is all that matters! We will dance ourselves to death for these last two shows and send off the Dance Fever era in true style!"
For the unversed, last week, the 36-year-old singer informed her fans that the band would not be playing at the Zurich Open Air Festival on 25 August or Rock En Seine on 26 August due to medical reasons. Notably, last year Florence was forced to cancel UK tour dates after she suffered a foot injury. Notably, whether Florence's foot injury took an ugly turn or not is not confirmed as of now, but the singer is now out of danger. During her foot injury days, Florence had informed her fans saying, "I'm so sorry to say that after an X-ray it seems I was dancing on a broken foot last night. It is not in my nature to postpone a show, and certainly not a UK tour, but I'm in pain and as dancers know, dancing on an injury is not a good idea. And have been told not to perform to avoid further damage."