Why Kylie Jenner changed her son Wolf's name to Aire? Makeup mogul blames 'postpartum emotions'
Kylie Jenner welcomed her second child a few months back and named her baby boy 'Wolf', which was soon changed by the makeup mogul.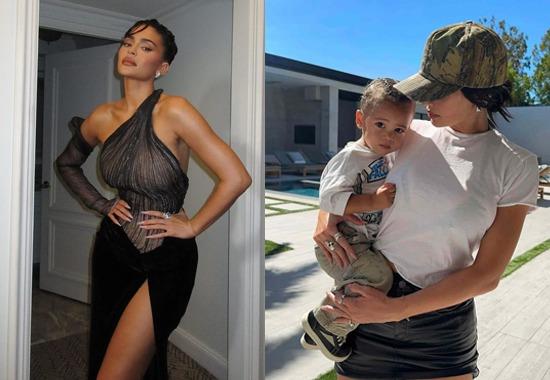 -

Makeup mogul and The Kardashians star Kylie Jenner has finally broken her silence on the confusion of her son's name Wolf. Kylie Jenner welcomed her second child a few months back and named her baby boy 'Wolf'. However, Kylie's son name created quite a confusion in the media and among the fans as she first named her son Wolf and then named him Aire Webster. Now, Kylie Jenner has finally broken her silence over her son's name confusion . Interestingly, Kylie Jenner blamed it all on the 'hormones'. Below is everything you need to know about Kylie Jenner's son name confusion and what she revealed in the latest episode of The Kardashians.

The Kardashians Season 3 final episode showcased, Kylie admitting that she never thought Wolf matched her son well in the first place while speaking to her longtime friend Anastasia Karanikolaou. Kylie Cosmetics' owner also revealed the significance of her son Aire Webster's name. She blamed hormones and postpartum emotions for changing his son's name. Not only this, Kylie stated that she has started to change her baby boy's name legally as well. Kylie told her BFF Anastasia Karanikolaou, "I just always wanted a name for him that had meaning. And it's a Hebrew name, which I enjoy. Meaning 'Lion of God'."

Kylie further said revealed the reason of name change from Wolf, to Aire saying, "Find your name before your hormones start raging and you have the child. The hormones were what knocked me out. I was overly emotional. He means the world to me. There isn't a name suitable for him." She further added, "I didn't anticipate that the postpartum would strike me so hard. Never once did I refer to him as Wolf." The makeup mogul further stated that "I just gave my son the name Wolf, and someone just told me this 24 hours ago. It was like it wasn't even on the list." Finally, a month before his first birthday, Kylie decided to publicly reveal the name of her son so that they could move on and begin thinking about the future.

Rapper GloRilla throws her sunglasses at 'lucky' fan; her team retrieves it in Awkward viral video

What are postpartum emotions?

As per the information available, Postpartum emotions or Postpartum Depression occurs after childbirth. Those who develop postpartum depression are at greater risk of developing major depression later on in life.